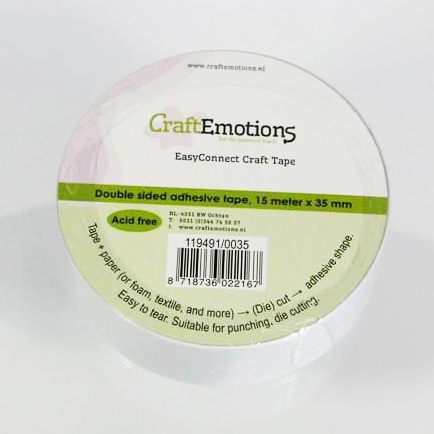 EasyConnect double sided tape
Available, delivery time: 1-3 days
EasyConnect double sided tape
Actually, you love filigree die-cut parts, if only there weren't always this tiresome problem with gluing, where the glue ends up not only on your paper, but unfortunately everywhere else?!
Then you will surely learn to love this double-sided adhesive tape immediately! It really is a game changer... because it has never been so easy to attach finely die-cutted elements or lettering to your projects!
• Simply put a piece of tape on the paper you want to use.
• Die-cut your image, lettering, ... on the free side.
• Now all you have to do is peel off the backing film of the adhesive tape under your die-cut and voila : you have a kind of sticker that you can easily stick anywhere without any glue on your hands.
A little hint:
If you first place your die-cutted part / lettering carefully on your project without pressing it down completely, you can carefully remove and reposition your "sticker" at any time. This is particularly useful for lettering that may not have stuck straight on the first try. Once properly pressed, the glue holds just as well as its liquid companions.


We are sure this tape has the potential to change your life :)
! Shipping only within Germany !